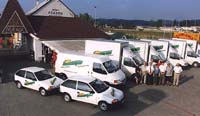 We are a bakery at Zalaegerszeg (H-8900 Zalaegerszeg, Zrínyi út 105.)
The company was founded with 10 members in 1994. Our primary intention was to put our products on the market in Keszthely and the nearby town called Hévíz as well as further expansion with technical development.During this first period we could equalize the prises of our rivals mainly with better quality.

Today in a 70 kms diametrical circle we deliver more than 80 kinds of products in 200 shops. Both our machine stock and transport capacity have been set to the
increase of demand. Our packing technology needs more improvement but we have already taken the necessary steps.
The bakery itself is situated on a 5000 square kilometres large ground directly on the main road in Keszthely.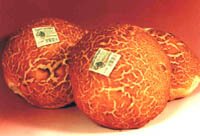 We opened one new factory in Zalaegerszeg from Januar 2001.

Our machinery:
Baking industry machines are manufactured by König and Werner-Pfleiderer
Transportation: 16 Ford Transit vehicles (work up to 70% of their capacity)
Products:
60 different kinds of bread, 70 kinds of fine bakers ware, 20 kinds of pastry, salted and sweet fancy/tea biscuits.
Number of employees (without the ones in shops) : ~ 100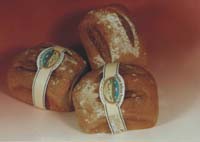 Our products are also sold in 2 own shops in Keszthely and Zalaegerszeg. As we are at a stage where on behalf of further improvement we should offer such products and novelties , which help us keeping our position on the market.

We are looking for business and investment partners as well as know-how. We hope that our terms are of interest to you and we look forward to hearing from you soon.
ADRESS (Méry-Pékség Kft.) Centrum:
Hungary, H-8900 Zalaegerszeg, Zrínyi út 105.
Tel./fax: (0036)-92-313531, (0036)-92-346863. E.mail: mertan1@axelero.hu
ADRESS (Méry-Pékség Kft.) Factory in Keszthely (Produktion partner: Helikorn Rt.):
Hungary, H-8360 Keszthely, Csapás út
Tel.: (0036)-83-515041, E.mail: pekseg@axelero.hu